Date of Birth: May 11, 1897
Place of Birth: Baldwin, KS
Father and Mother's Names: Rev. J. J. and Ruby (Bullard) Skinner
Spouse and Children's Names: Marjorie (Fisher) Skinner (wife), Tom (son), Joe (son)
Date Entered Service: N/A
Service Branch: Marine Corps Reserves
Rank/Specialty: Major
Service ID: N/A
Division/Company/Unit info: N/A
Awards and Commendations: World War I - Purple Heart World War II - World War ribbon with three bronze battle stars, Asiatic-Pacific ribbon, commendation with ribbon for organizing and directing the supply of vehicles during the Marianas, Iwo Jima, and Okinawa campaigns in World War II
Riley Connection: Joseph "Bill" Skinner attended Kansas State Agricultural College and later the Skinner family lived at 100 South Delaware Ave. in Manhattan.
Date of Discharge: N/A
Date of Death (Age): September 1, 1969 (age 72) in Clay Center, Kansas.
Grave Location: Sunset Cemetery, Manhattan, Kansas
Bio: Joseph William Skinner, who went by "Bill," was born in Baldwin, KS. Bill attended Kansas State Agricultural College where he majored in rural commerce and graduated in 1923. At KSAC, he was a member of Acacia, Delta Phi Upsilon, and Tobasco, which was a dancing club. He was also the advertising manager for The Royal Purple.
Bill lived in Manhattan and was a sales manager for the Brewer Motor Company, where he began working in 1926. He was a veteran of World War I, where he had served with Company E, 139th Infantry, 35th Division. He was wounded twice during his two years of service in France, and he received the Purple Heart.
During World War II, Bill received a commission as a captain in the Marine Corps Reserves and was assigned to Camp Pendleton in California. While he was at Camp Pendleton, Bob Hope and his group of radio entertainers were guests of the Marines. Marjorie and the boys relocated to California to be with Capt. Skinner, and in a letter from Marjorie to friends in Manhattan, she wrote that she had attended the Rose Bowl on New Year's Day. When Bill, who was now a major in the Marines, received orders to go overseas, Marjorie and the boys returned to Manhattan.
Major Skinner spent part of his service in Hawaii, and while in Hawaii, Kansas service members had regular get-togethers they called "Jayhawker reunions." Major Skinner served in the Pacific Theater and was a motor transport officer, and in that capacity, he had been to 29 Pacific islands. During his service, he received a letter of commendation and a ribbon for his duties as motor transport officer. The commendation was for his work in organizing and directing the supply of vehicles for the Marianas, Iwo Jima, and Okinawa campaigns.
After the war, Bill returned to his job as sales manager at the Brewer Motor Company. In 1952, the Skinners moved to Clay Center, KS, where they opened a Chevrolet dealership (formerly W. W. Smith and Sons), which was known as Skinner Motors and operated until 1998. The Skinners continued to live in Clay Center, and Bill passed away in 1969. In addition to their two sons, the Skinners had five grandchildren and six great-grandchildren.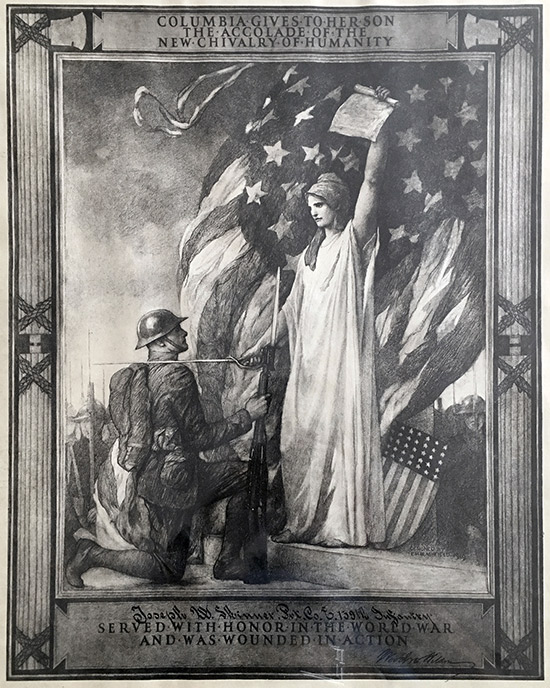 Skinner was wounded twice during WWI.
The information available for this veteran is incomplete. We would like to include as much information about all our veterans as possible, so if you or someone you know has any additional information we encourage you to either use the submission link below or contact us at: peacememorial101@gmail.com. Thank you for your support.