Date of Birth: June 3, 1907
Place of Birth: Stockdale, Riley Co., Kansas
Father and Mother's Names: William Walstrom and Emma Christine (Carlson) Walstrom
Spouse's Name: Martha Jane (Skillman) Walstrom
Date Entered Service: Was in the Navy prior to WWII, Joining on April 14, 1939 from Norfolk, Virginia.
Service Branch: Navy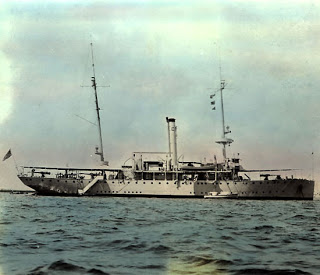 USS Ashville on patrol in the Pacific.
Rank/Specialty: Ensign, Pay Master
Service ID: 0-105301
Division/Company/Unit info: Acting Pay Clerk, USS Asheville (PG-21).
Riley Connection: Lived in Sherman Twp., Riley Co., Kansas in 1910. Then in Randolph, Kansas from at least 1920 to 1925.
Awards and Commendations: Purple Heart
Date of Death (and Age): Reported Missing in Action on March 3, 1942 (age 35). Declared dead November 25, 1945.
Place of Death: Aboard USS Asheville (PG-21), Indian Ocean, south of Java, Netherlands East Indies (missing-no body found).
Grave Location: Manila American Cemetery and Memorial, Manila, Metro Manila, National Capital Region, Philippines.
Bio: Harold Alvin Walstrom was born about 1907 in Sherman Twp., Riley Co., Ks to William Walstrom and Emma Christine (Carlson) Walstrom. In 1930, Harold may have joined the Navy as a a Pay Clerk. He was enumerated on the 1930 U.S. Census as being in his parents household in Lowe Twp., Kay Co., Oklahoma. But there was no naval base there so he was put on the Census with the family giving his information. In 1934, he was listed as being in the USN in Norfolk, Va. Harold enlisted into active service, according to the first record we found, on April 14, 1939 and was attached to the Norfolk Naval Base. Harold was a SK1 (Store Keeper First Class). His first ship was the USS Pennsylvania where he reported on April 20, 1939 for a cruise from Norfolk to the Canal Zone. Ten days later on April 4, 1939, he boarded the USS Relief as a patient, he apparently was very ill, from the Canal Zone. Next, he was stationed on the USS Henderson on November 16, 1939. Harold was then sent to serve on the USS Marblehead on January 18, 1940. By 1941 he was serving on the USS Asheville (PG-21) and had been promoted to Ensign and was a Pay Clerk. The Asheville was a Patrol Gunboat.
When the Japanese took the Philippines, the Asheville and her sister ship Tulsa was ordered to Surabaya, Java. In a tense voyage of 2000 miles in 12 days and sailing only at night, hiding in little island coves, etc. during the day, these little gunboats escaped the large Japanese Naval and Air force that by then had spread all over the far east.
Later the Asheville was ordered to Tjilatjap, java and remained there doing escort duty until March 1, 1942 when her participation in the defense of the Dutch East Indies was declared hopeless and she received her last order to proceed to Australia as the Japanese overwhelmingly closed their pincers on the remainder of the once formidable Asiatic Fleet.
The ships were supposed to rendezvous at a point approximately 500 miles SW of Tjilatjap and the Asheville with her sister ship Tulsa was proceeding in that direction. On March 2, 1942 they were spotted by a Japanese shipboard seaplane and decided to split up to lessen the chances of both being caught. The Asheville proceeded on to the rendezvous point as her engines were giving her trouble and could not keep up. Possibly, she thought, at the rendezvous point, other Asiatic Fleet ships would be there to join up with for safety. Actually no other ship went to the rendezvous point. The order had been radioed in a simple code due to the many nationalities involved with the Allied Forces, and for that reason the other ship captains feared that the Japanese would pick up the message and await them at that point. That was exactly what happened to the Asheville. On March 3 the Tulsa received the following message 03833 ASHEVILLE ATTACKED 12-33s-111-35-E RRRR. The series R's indicated that the attacker was a surface raider and neither a submarine nor aircraft.
Later research revealed that the Japanese ships were: destroyers Arashi (Cdr. Yasumasa Watanabe), Nowake (Cdr. Magotaro Koga) and the cruiser Maya (Capt. Shunsku Nabeshima). The destroyers attacked with gunfire but the cruiser just stood by. In 30 minutes the battle was over. The Asheville riddled with exploding shells, her once proud structure torn to shreds, sank beneath the oceans crest. After the ship had sunk, one or two of the destroyers came by the survivors in the water and at first called out "if there were any officers in the water," receiving no reply, one ship threw over a line. Fireman Fred Brown from Ft. Wayne, Indiana grabbed the line and was taken on board the destroyer. This was presumably to identify the ship they had sunk. Brown was taken to the Japanese prison camp at Makassar, Celebes. There he suffered untold hardships, until he died 3 years later from pellagra, heart trouble and dysentery. He was returned to the U.S. in 1947 for final burial in his hometown of Ft. Wayne, Indiana. No other members of the crew were rescued and all were machine gunned and left in the shark-infested water to drown.
The information available for this veteran is incomplete. We would like to include as much information about all our veterans as possible, so if you or someone you know has any additional information we encourage you to either use the submission link below or contact us at: peacememorial101@gmail.com. Thank you for your support.