Full Name: Beattie Harris Fleenor
Date of Birth: 1917
Place of Birth: Manhattan, Kansas
Father and Mother's Names: Beatty Hope Fleenor and Jessie Mae (Harris) Fleenor
Date Entered Service: April 25, 1941 at Fort Knox, Kentucky.
Service Branch: Army Air Corps
Service Number: 0-430993
Rank: Captain, B-24 Bomber Pilot ("Missouri Sue")
Awards: Distinguished Flying Cross, Air Medal with Oak Leaf Cluster and the Purple Heart.
Division/Company/Unit info: 409th Bomber Squadron, 93th Bomber Group (Heavy).
Riley Connection: Born and raised in Manhattan, KS. He attended high school and 4 years of college at the Kansas State College there. His father taught at the same high school and college. Family lived at 1634 Osage St.
Date of Death (and Age): April 16, 1943
Place of Death: Over the Bay of Biscay. KIA (Killed in Action) MIA (Missing in Action) lost "Over Water" body not recovered.
Grave Location: Body not recovered so no burial. Name listed on Tablets of the Missing at Brittany American Cemetery and Memorial, Saint-James, Departement de la Manche, Basse-Normandie, France.
Bio: Beattie was born and raised in Manhattan, Kansas. His father was a High School teacher and Kansas State College Professor in Manhattan. In 1940, Beattie had moved to West Virginia and was working as a salesman in a flour mill. Soon after this he moved to Mason Co., KY and on April 25, 1941, Beattie joined the Army Air Corps from Fort Knox, KY. In his enlistment information it states he was working as an Achitect when he entered the military. He had attended 4 years of college, no doubt studying Architecture. He was 6' tall and weighed 164 lbs. Beattie was a B-24 pilot, assigned to 93rd Bomb Group, 409th Bomb Squadron - KIA on 16 april 1943 (mission to Brest), flying aboard the B-24 Bomber ( #41-24122) nick-named "Missouri Sue."
Shot down 16 April 1943 in B-24 #4124122 'Missouri Sue.' Plane crashed into Bay of Biscay. Killed in Action (KIA). According to Stewart pilot Fleenor was flying an H model B24 which was the first to arrive from the states. Earlier on 26 February 1943 B-24 41-23734 'Night Raider' crashed landed on return to Britain with 3 crew members wounded in action. The landing was at RAF Ludham, Norfolk. All crew members were returned to action and plane was salvagable.
List of "Missouri Sue" crew members who died in the crash:
Beattie Fleenor-Pilot
James Hardin-Co-Pilot
Richard Guess-Radio Operator
Stephen Hegedus-Ball Turret Gunner
T. Kilmer-Right Waist Gunner
James Leary-Navigator
Ronald Nelson-Left Waist Gunner
George Pinner-Bombardier
James Roberts-Tail Gunner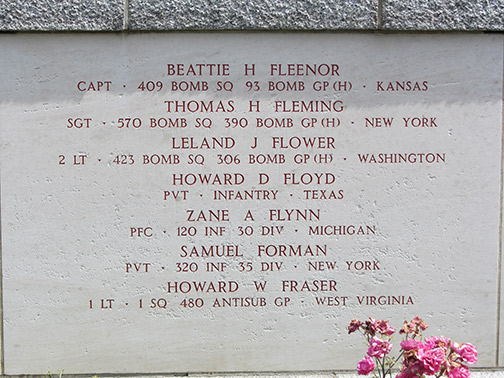 Photo of Fleenor's name on the Tablet's of the Missing at Brittany American Cemetery and Memorial, Saint-James, Basse-Normandie, France.
The information available for this veteran is incomplete. We would like to include as much information about all our veterans as possible, so if you or someone you know has any additional information we encourage you to either use the submission link below or contact us at: peacememorial101@gmail.com. Thank you for your support.