Date of Birth: May 27, 1921
Place of Birth: Manhattan, Kansas
Father and Mother's Names: A. F. and Anna (Barclay) Woodman
Spouse and Children's Names: Ella Jean (Rector) Woodman (wife), Becky (daughter), Barb (daughter), and Greg (son)
Date Entered Service: TBD
Service Branch: Navy
Rank/Specialty: Water Tender Petty Officer 1st Class
Service ID: 6286382
Division/Company/Unit info: Crew member of the U.S.S. Newberry.
Awards and Commendations: TBD
Riley Connection: Alfred Woodman was born in Manhattan where he would remain a lifelong resident.
Date of Death (Age): February 23, 1962 (age 40) in Manhattan, Kansas.
Grave Location: Valley View Memorial Gardens, Pottawatomie County, Kansas.
Bio: Alfred "Bud" Woodman grew up in Manhattan and graduated from Manhattan High School. Bud was a member of the United States Navy, where he served aboard the U.S.S. Newberry (APA-158) in the Pacific during World War II. The Newberry was a Haskell-class troop transport vessel. The Newberry's missions included transporting the U.S. 4th Marine Division to Iwo Jima and taking on 439 wounded for 10 days following the D-Day invasion. Providing speedy medical care to the wounded of the D-Day invasion is credited with saving many lives.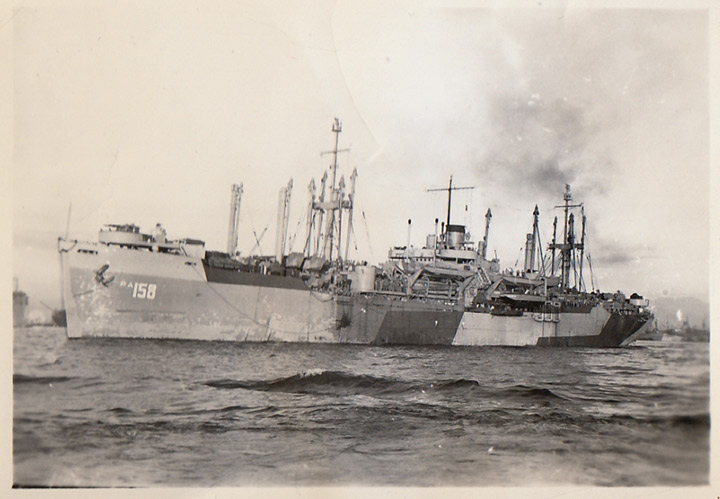 U.S.S. Newberry
Bud was a lifelong resident of Manhattan until his death in 1962 from cancer. He was best friends with the Bowman family -- Charlie, Jim and Herman (Babe) -- who by all accounts were always up to mischief more often than not in their youth. Bud was known for his ornery streak and love of hunting and fishing, as well as the owner and proprietor of Fairmont Trailer Court (this land is now a ballpark on the east side of Manhattan). Bud asked Babe to take care of his family upon his death. Babe married his widow, Jean Woodman, five years later and raised her three kids -- Becky, Barb, and Greg -- as his own, fulfilling the promise he made to Bud before his death.